Workshops and other events throughout the state can be a great way for educators to network, and refine their science communication and outreach skills.
Environmental Education
2019 Environmental Educators of North Carolina Conference at the Schiele Museum in Gastonia, NC
September 19-21, 2019 | Schiele Museum, Gastonia, NC
Environmental Educators of North Carolina emerged out of the need and desire of individuals to meet and share their experiences, aspirations, and tools in order to bring the most excellent environmental education experiences to the citizens of North Carolina. Enjoy a conference full of professional development, networking, learning, and field experiences that will help you expand your knowledge of EE and resources in NC and beyond. The keynote speaker this year is Dr. Carolyn Finney.  For more information about the conference, click here.
Onsite Water Protection
35th Annual NC Onsite Water Protection Conference
October 15-17, 2019 | Jane S. McKimmon Center, Raleigh, NC
This annual three-day conference dives into science, technology, and systems and features keynote speakers, hands-on workshop sessions, student poster sessions, and offers continuing education credit. Registration is open through September 23rd, and more information regarding the conference can be found here.

Global Health Consortium
2019 Triangle Global Health Consortium Annual Meeting
October 16, 2019 | Durham Convention Center, NC
The Triangle Global Health Consortium Annual Meeting 2019 theme is One Health – Creating our Shared Future: Humans, Animals, and the Environment.  North Carolina brings a wealth of expertise and talent for implementing One Health across a spectrum of global health research, practice, policy, and innovation. This program will provide an opportunity for thought leaders, innovators, policymakers, students, and researchers to share their One Health experience and questions, with the goal of advancing the use of global health and public health tools to achieve sustainable wellbeing for all. The program sessions will include a mix of speakers, panels, workshops, and poster sessions which showcase current One Health best practices and encourage attendees and presenters to engage around key issues impacting human, animal, and environmental health across a spectrum of application areas. For more information and registration questions, click here.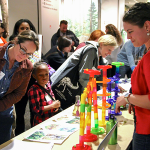 Science Teacher Development
North Carolina Science Teachers Association Annual Professional Development Institute
November 14-15, 2019 | Benton Convention Center, Winston-Salem, NC
The North Carolina Science Teachers Association invites you to share your expertise with science educators across the state. This year, we will focus on three strands to discuss and share ways to improve digital literacy, scientific literacy, and climate science literacy. By applying literacy skills and the inquiry process to "real world" problems, students will successfully create and communicate solutions that will benefit society. For more information, click here.
Local Citizen Science
CitSCi
2020 (TBA) | Raleigh, NC
Citizen Science Association is pleased to announce that CitSci will be hosted in a city increasingly known as a hub for citizen science: Raleigh, North Carolina! The 2019 Conference hosts included the North Carolina Museum of Natural Sciences, North Carolina State University, and more. Details for next year's conference will be announced.
Regional Environmental Education
Environmental Education Alliance Annual Conference
March 6-8, 2020 | Jekyll Island, GA
Share your expertise with formal and non-formal educators from around the southeast at the 2020 Environmental Education Alliance Annual Conference. A research symposium and concurrent sessions will follow the theme for the 2020 Environmental Education Alliance Conference: "Splashing into EEA: Making Waves within Your Community.  Follow the links for more information, submitting research proposals, and submitting session presentation proposals.  (Deadline for submission is September 30, 2019)
Coastal and Piedmont Education
North Carolina Forestry Association Coastal and Piedmont Educator Week-long Workshops
2020 (TBA) | Coastal Workshop – New Bern, NC
2020 (TBA) | Mountain Workshop – Asheville, NC
2020 (TBA) | Piedmont Workshop – Southern Pines, NC
Join the NC Forestry Association, the NC Forest Service, and the NC Sustainable Forestry Implementation Committee for three workshops through the summer. Come learn about what forestry means to North Carolina and how to translate what you learn into practical classroom lessons. Educators will receive 30 CEU contact hours for attending. Click here for information about the 2019 Workshops, and contact Eddie Reese at 919-834-3943 ext. 2. or at ereese@ncforestry.org with questions.
Photography
Photography for Science
Raleigh, NC
Did you know that your nature photographs can be used by scientists to learn more about the biology of plants, animals, and fungi?  Take a leisurely tour of Prairie Ridge and photograph interesting things along the way.  You will learn how to upload your photos to a variety of citizen science projects and to take the most helpful photos possible for the scientists who will use them for their research.  Dress for the weather, bring your camera — a fancy DSLR with all the bells and whistles, a point-and-shoot, or even your cell phone — and let's photograph for science!  Beginning photographers are always welcome.