The recipients for 2019 Grant funding have been chosen. Congratulations to:
Cape Fear River Watch, Cumberland County Department of Public Health, and Friends of the NC Museum of Natural Sciences!
The Community Grant program helps educators, nonprofits, and community groups across the state address environmental health issues in their communities. CHHE provides funding and technical assistance to enhance the capacity of these groups. Grantees may receive up to $8,00 for projects that engage their communities, collect information, analyze data, support citizen science, and/or conduct education to address clear community needs related to environmental health. Preference may be given to groups whose projects directly align with CHHE research.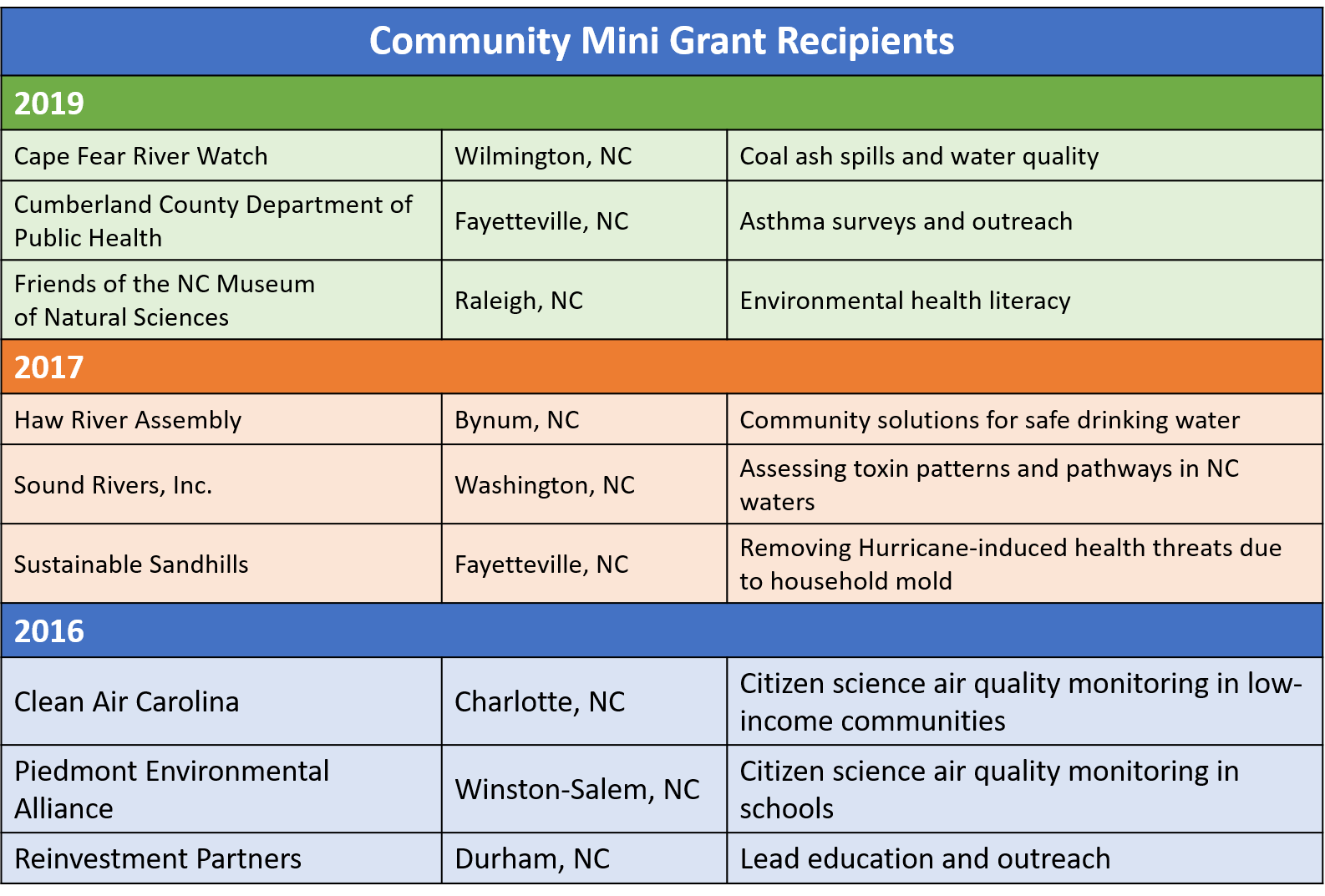 To see what this year's application materials looked like: Grant Information, Grant Application (PDF),Grant Application (Word Doc), Grant Scoring Sheet.
During its first year, more than 40 groups applied for a Community Grant. In Year 2, another 28 community-based organizations applied to the program. Use this map to check out where applicants have been from; 2016 applicants are in green, 2017 in blue, and 2019 in purple. View a larger version of this map of Grant applicants here.
In 2016, in order to help community groups better prepare for this application and future funding opportunities, we hosted a free grant-writing workshop with more than 20 attendees. Jerry Ensminger, a member of our Stakeholder Advisory Board, spoke about the importance of grassroots environmental health efforts, and Chris McGahan, Director of the Career Development Core, presented best practices and specific tips for strengthening a grant proposal. A recording of the presentation and the slides are provided below.
The creation of this grant program has been completely collaborative, working closely with our Stakeholder Advisory Board, CHHE members, and colleagues from Emory University to make this program as effective as possible. Emory's HERCULES Center has a similar Community Grant Program and has been incredibly helpful in providing the CEC with guidance and materials.
Questions? Contact Katy May, kmay2@ncsu.edu or 919-515-2681.