Hurricane Florence Update
Study participants: we are thinking about you and your family in the aftermath of Hurricane Florence. Please know that we are continuing to work with all the samples and data that you provided, and are committed to reporting those results back to you as soon as possible.
We want to be sure to be able to reach you to update you with study findings. We know that many of you may have relocated, perhaps permanently. If there have been any mailing address changes, please let us know your updated contact information. We will send your individual results from the Study to the mailing address of your choice. You can contact us by phone or email:
Toll Free Number: 855-854-2641
Email: genx-exposure-study@ncsu.edu
---
What is GenX?
GenX is a chemical used in the production of Teflon™ and it has been detected in the Cape Fear River, the drinking water source for Wilmington. For more detailed information about what is known about GenX, click here. Over the last several months, scientists from NC State University, East Carolina University, and the US Environmental Protection Agency have been working closely with community leaders from New Hanover County to develop the GenX Exposure Study, a study to assess whether GenX and related chemicals are detectable in the bodies of Wilmington area residents. The study was first discussed at a Water Wednesday Forum sponsored by Clean Cape Fear on July 26, 2017.
What is the purpose of this study?
The purpose of this study is to assess current exposure to GenX and related chemicals in people living in the Lower Cape Fear River Basin. We will measure GenX and other chemicals in blood, urine, and drinking water.
Who participated?
In total, 340 people enrolled and participated in the GenX Exposure Study. All participants met the following criteria:
People who have lived in New Hanover County since November 2016
Age 6 or older
Men and non-pregnant women
Willing to provide blood, urine, and questionnaire information
Primary drinking water source in your home is provided by the Cape Fear Public Utility Authority
Unsure of your water source? Check this map to learn if you receive ground or surface water from CFPUA.
---
Study Updates:
Tap water, blood, and urine samples were collected from November 8 to December 10, 2017. Analysis on the tap water was recently completed, and results were mailed to study participants. Click here to view an example of a report-back letter that was sent to November participants.
We hosted a community meeting  on April 17, 2017 to present the initial water results of the GenX Exposure Study. The event was free and open to the public; close to 80 community members attended.
On May 5, 2018, 50 original participants were re-sampled, and 35 new participants enrolled in the Study.
The blood and urine samples are currently being analyzed. Those results are not yet available. Another public meeting will be planned when they are ready.
GenX and our ongoing research was recently featured in Fortune Magazine. They produced a great video featuring Dr. Hoppin and our community partners at Cape Fear River Watch! Check it out here.
---
What did we look for?
The table below provides information on the 17 fluorochemicals we tested for in the GenX Exposure Study. For simplicity, in our reports to study participants, we refer to each chemical by its short name. A CAS number is a unique numerical identifier assigned to each chemical. Laboratory analysis was done on a triple quadrupole mass spectrometer. Additional details on the method can be found in scientific papers by Sun et al., 2016 and Strynar et al., 2015 (see references below). Laboratory results for PFMOAA, Nafion byproduct 2, PFO2HxA, PFO3OA and PFO4DA chemicals are considered semi-quantitative. This means that, while we are confident of whether each chemical was present or not, we do not know its exact concentration because the analytical tools needed for quantification were not available at the time of the laboratory work. To view the full table in a  separate document, click here.
| | | | | |
| --- | --- | --- | --- | --- |
| | Short Name | Chemical Name | Chemical Formula | CAS Number |
| 1 | GenX (HFPO-DA) | Perfluoro-2-propoxypropanoic acid | C6HF11O3 | 13252-13-6 |
| 2 | PFOA | Perfluorooctanoic acid | C8HF15O2 | 335-67-1 |
| 3 | PFOS | Perfluorooctane sulfonic acid | C8HF17SO3 | 1763-23-1 |
| 4 | PFPeA | Perfluoropentanoic acid | C5HF9O2 | 2706-90-3 |
| 5 | PFHxA | Perfluorohexanoic acid | C6HF11O2 | 307-24-4 |
| 6 | PFHpA | Perfluoroheptanoic acid | C7HF13O2 | 375-85-9 |
| 7 | PFBA | Perfluorobutanoic acid | C4HF7O2 | 375-22-4 |
| 8 | PFNA | Perfluorononanoic acid | C9HF17O2 | 375-95-1 |
| 9 | PFDA | Perfluorodecanoic acid | C10HF19O2 | 335-76-2 |
| 10 | 6:2 FTS | 6:2 fluorotelomer sulfonate | C8H5F13SO3 | 27619-97-2 |
| 11 | PFBS | Perfluorobutane sulfonic acid | C4HF9SO3 | 375-73-5 |
| 12 | PFHxS | Perfluorohexane sulfonic acid | C6HF13SO3 | 355-46-4 |
Laboratory results for the following chemicals are considered semi-quantitative:
| | | | | |
| --- | --- | --- | --- | --- |
| | Short Name | Chemical Name | Chemical Formula | CAS Number |
| 13 | PFMOAA | Perfluoro-2-methoxyacetic acid | C3HF5O3 | 674-13-5 |
| 14 | Nafion byproduct 2 | Ethanesulfonic acid, 2-[1-[difluoro(1,2,2,2-tetrafluoroethoxy)methyl]-1,2,2,2-tetrafluoroethoxy]-1,1,2,2-tetrafluoro- | C7H2F14O5S | 749836-20-2 |
| 15 | PFO2HxA | Perfluoro(3,5-dioxahexanoic) acid | C4HF7O4 | 39492-88-1 |
| 16 | PFO3OA | Perfluoro(3,5,7-trioxaoctanoic) acid | C5HF9O5 | 39492-89-2 |
| 17 | PFO4DA | Perfluoro(3,5,7,9-tetraoxadecanoic) acid | C6HF11O6 | 39492-90-5 |
References:
Sun, M., Arevalo, E., Strynar, M., Lindstrom, A., Richardson, M., Kearns, B., Pickett, A., Smith, C., Knappe, D. R. (2016). Legacy and emerging perfluoroalkyl substances are important drinking water contaminants in the Cape Fear River Watershed of North Carolina. Environmental Science & Technology Letters, 3(12), 415-419.
Strynar, M., Dagnino, S., McMahen, R., Liang, S., Lindstrom, A., Andersen, E., McMillan, L., Thurman, M., Ferrer, I., Ball, C. (2015). Identification of novel perfluoroalkyl ether carboxylic acids (PFECAs) and sulfonic acids (PFESAs) in natural waters using accurate mass time-of-flight mass spectrometry (TOFMS). Environmental Science & Technology, 49(19), 11622-11630.
---
November study participants have now been sent thank you letters and their household tap water results.
If you participated in this study in November, and you have not yet received your thank you letter or water results, contact the study office at 855-854-2641 or genx-exposurestudy@ncsu.edu.
---
Meet our investigators!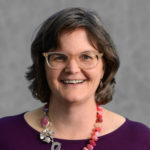 Principal Investigator: Jane Hoppin, ScD, North Carolina State University
Dr. Hoppin is an Associate Professor in the Department of Biological Sciences and Deputy Director of the Center for Human Health and the Environment at NC State.  She is an experienced environmental epidemiologist with more than 200 scientific publications. She is responsible for the overall conduct of the study.
Co-Investigators: Detlef Knappe, MS, PhD, NC State, Robert Smart, PhD, NC State, Katlyn May, MS, NC State, David Collier, MD, FAAP, PhD, East Carolina University (ECU), Jamie DeWitt, PhD, ECU, C. Suzanne Lea, MPH, PhD, ECU

Our Partners
Stay up to date, follow us on Facebook!
Center for Human Health and the Environment
New Hanover County Health Department