CHHE and the CEC have an established relationship with community members and nonprofit organizations, as well as local academic institutions and health agencies in Durham, NC. The majority of our collaborations focus on toxic metal exposure in the environment and at home.
In partnership with PEACH, the CEC has been working closely with community partners in Northeast Central Durham (NECD). Between 2016 and 2017, CHHE and NECD community representatives met more than 20 times to discuss and prioritize research goals, funding opportunities, and outreach messages.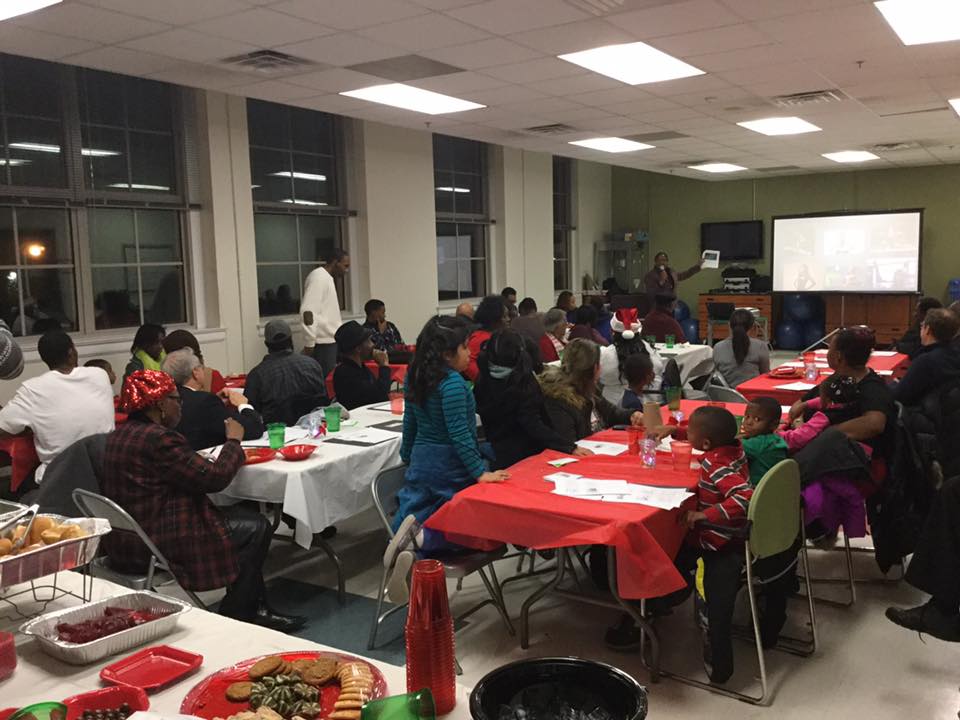 We co-hosted a community Christmas dinner (left) that brought more than 40 NECD community members together to learn about lead and cadmium exposures, ask questions, and sign up to stay involved in research efforts.
The CEC, along with community partners CHHE scientists, and researchers at Durham-based North Carolina Central University (an HBCU based in Durham) have been working on re-submitting a proposal to NIEHS to continue learning about toxic metal exposures and engaging community members in risk reduction education through a community-based participatory research initiative that allows NECD to have direct ownership of research efforts in their neighborhood.
In addition, through our Community Grant Program, we were able to work with Reinvestment Partners, a Durham-based nonprofit organization that also addresses toxic metals in the home. The grant program allowed Reinvestment Partners to expand their targeted outreach to homes in Durham at risk for childhood lead poisoning. Lorisa Seibel (above) spoke on behalf of Reinvestment Partners at CHHE's first Science Symposium in February 2017.
Ultimately, through the Community Grant Program, Reinvestment Partners was able to provide lead-poisoning prevention education for 20 families with children under 6 years old, host five commuity-wide outreach events, lead door-to-door outread campaigns to 150 homes, and purchase a new HEPA filter vacuum that NECD residents can borrow to reduce toxic metal hazards in their home.