The Integrative Health Sciences Facility Core (IHSFC) is led by Co-Directors Drs. Carolyn Mattingly and Cathrine Hoyo. IHSFC  liasons include Dr. David Collier (East Carolina University's (ECU) Brody School of Medicine (BSOM), Dr. Jane Hoppin (Human Population Section), Dr. Ricky Langley (NC Depart. Health and Human Services) and Katy May (Community Outreach and Engagement Core)
The mission of the Integrative Health Science Facility Core (IHSFC) is to catalyze bi-directional translation of research between diverse model systems and population-based studies to advance understanding about the effects of environmental exposures on human health. The CHHE has long had a cadre of nationally renowned basic scientists that leverage diverse models for environmental health science (EHS) research and has one of the best developed bioinformatics pipelines in the country for 'Big Data'; through the IHSFC, CHHE seeks to develop a stronger and more expanded   translation component as a land grant institution that is without a traditional medical school or school of public health.
The specific aims of this core are to:
Aim 1. Cultivate translational partnerships and integration among basic scientists, epidemiologists, exposure scientists, clinical researchers and public health practitioners to advance understanding and prevention of the effects of environmental factors on human health.
Aim 2. Develop new and enhance existing resources that will facilitate multi-directional translation between basic science discoveries in diverse model systems and population-based studies.
Aim 3. Contribute to the CHHE outreach mission through substantive and bi-directional integration with the Community Outreach and Education Core (COEC) to help educate vulnerable communities about the environmental impacts on human health and, where possible, to coordinate CHHE translational initiatives with public health priorities.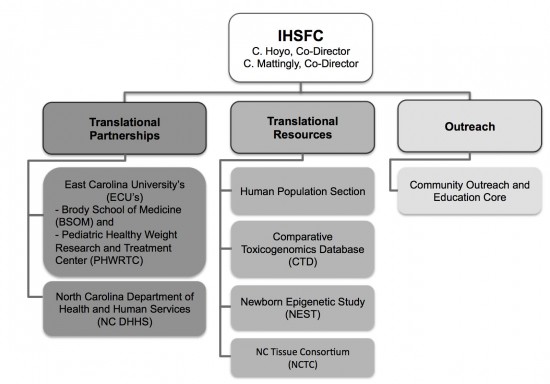 To accomplish these aims we formed a multidisciplinary team, established key programmatic partnerships and are creating new and enhancing existing resources at NC State and partner institutions that will specifically promote new opportunities for multi-directional translation between basic science and clinical research (see org. chart above). These partnerships and resources are:
Translational Partnerships:
East Carolina University's (ECU) Brody School of Medicine (BSOM) and the Pediatric Healthy Weight Research and Treatment Center
The NC Department of Health and Human Services (DHHS) Division of Public Health
Translational Resources:
CHHE Human Population Section
The Comparative Toxicogenomics Database
Newborn Epigenetic Study (NEST)
NC Tissue Consortium at ECU