CHHE's mission is to understand how human health, at both the individual and population level, is impacted by environmental factors and to implement this knowledge to reduce the adverse impacts of environmental factors on human health.                                                                             
Duke Energy's assurance that the Cape Fear River is not contaminated by coal ash is being met with skepticism from some scientists. They say the Charlotte-based power company's limited sample of surface water — in two locations daily since Sept. 18 — is not enough to produce valid test results.
Doubts about the value of Duke's testing are coming in advance of Cape Fear River test results expected Friday from the N.C. Department of Environmental Quality.
The agency tested the water and sediment in the river over several days, starting Sept. 20. The agency says it will continue taking daily samples for the foreseeable future. Two scientists with expertise in water quality told The News & Observer that the most important testing for coal ash would analyze river-bottom sediment, where coal ash residue is most likely to be found.
"The reality is the drip drip drip of those places matter most," said David Buchwalter, a professor of environmental toxicology at N.C. State University. "If they (the heavy metals) don't get buried, they'll make their way downstream." Read more here from Greensboro News and Record
Calendar
 

October 23, 2018

October 30, 2018

November 6, 2018

November 9, 2018
CHHE is a NIEHS funded Environmental Health Sciences Core Center.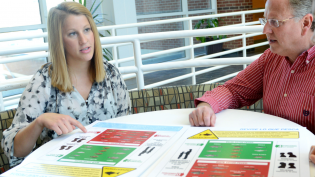 The CHHE's Community Outreach and Engagement Core (COEC) works to translate and get research out to the people of North Carolina through a variety of outlets and media, and facilitate two-way communication and collaboration between our scientists and our neighbors throughout the state.
Contact Us
Looking for specific information or resource help?