CHHE's mission is to understand how human health, at both the individual and population level, is impacted by environmental factors and to implement this knowledge to reduce the adverse impacts of environmental factors on human health. 
Through the purposeful interfacing of different disciplines and a systems biology framework integrating all levels of biological organization – biomolecule, pathway, cell, tissue, organ, model organism, human, and human population –  CHHE will elucidate fundamental mechanisms through which environmental stressors interface with pathways, the genome, and epigenome to influence human disease and produce adverse human health outcomes.
NC State University's Center for Human Heath and the Environment (CHHE) is announcing its request for applications (RFA) for pilot project proposals for Fall 2019.  Applications are due on September 27, 2019.  The earliest start date is mid-November 2019 and CHHE expects to fund 6-8 projects. The CHHE Pilot Project Program (PPP) fosters collaborations, increases interdisciplinary research and aids in the career development of early career investigators to advance environmental health research. The overarching goal of CHHE's PPP is to provide support for research aimed at understanding the adverse impacts of environmental factors on human health and disease. The CHHE PPP encourages multidisciplinary/collaborative approaches and the use of CHHE's cores and resources. The PPP has added a new program that supports community engaged projects. Detailed aims and RFA instructions for CHHE's PPP can be found at https://chhe.research.ncsu.edu/pilot-projects.
Abstract pre-submission (jcbonner@ncsu.edu) is encouraged but not required to determine if proposal topics are consistent with the mission of the CHHE. Individual awards will range up to $25,000 direct costs for one year.  Questions can be directed to Dr. Jamie Bonner (jcbonner@ncsu.edu), Director of CHHE PPP.
Calendar
 

October 21, 2019

October 22, 2019

October 28, 2019

October 29, 2019
CHHE is a NIEHS funded Environmental Health Sciences Core Center.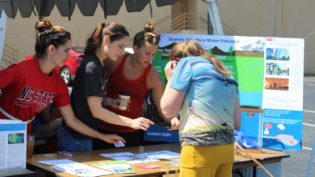 The CHHE's Community Engagement Core (CEC) works to translate and get research out to the people of North Carolina through a variety of outlets and media, and facilitate two-way communication and collaboration between our scientists and our neighbors throughout the state.
Contact Us
Looking for specific information or resource help?