CHHE's mission is to understand how human health, at both the individual and population level, is impacted by environmental factors and to implement this knowledge to reduce the adverse impacts of environmental factors on human health. 
Through the purposeful interfacing of different disciplines and a systems biology framework integrating all levels of biological organization – biomolecule, pathway, cell, tissue, organ, model organism, human, and human population –  CHHE will elucidate fundamental mechanisms through which environmental stressors interface with pathways, the genome, and epigenome to influence human disease and produce adverse human health outcomes.
Congratulations to the 2019 Fall Pilot Project Awardees!
Title: Exploring fish consumption as a route of human Per- and polyfluoroalkyl
substances (PFAS) exposure
PI: Scott Belcher, Dept. of Biological Sciences, NC State
Co-I's: Katy May, Center for Human Health and the Environment, NC State and Theresa Guillette, Dept. of Biological Sciences, NC State
Title: Cellular and molecular mechanisms of cyanotoxin mixture-induced neurotoxicity
PI: Kurt Marsden, Department of Biological Sciences, NC State
Co-I: Michael Bereman, Dept. of Biological Sciences, NC State
Title: The comorbid effects of arsenic exposure and alcohol abuse on hippocampal neurodegeneration
PI: S. Alex Marshall, Dept. of Biological and Biomedical Sciences, NC Central
Collaborator: Kevin Williams, Biomanufacturing Research Institute and Technology Enterprise
Title: Environmental Lead Surveillance to Improve Caries Risk Assessment in Primary Care
PI: Mark Moss, School of Dental Medicine, East Carolina
Co-I: David Collier, Pediatric Healthy Weight Research and Treatment Center, East Carolina
Consultant: Dereje Jima, Center for Human Health and the Environment, NC State
Title: NCSU-RTI collaboration on multi-pollutant exposure monitor that measures real-time total PM and PM species
PI: Roger Narayan, Dept. of Biomedical Engineering, NC State
Co-I: Jonathan Thornburg, RTI International
Title: Degradation of Bacterial Permeability Family Member A1 (BPIFA1) by House Dust Mite (HDM)
Abrogates Innate Immune Response
PI: Tongde Wu, Dept. of Pharmaceutical Sciences, NC Central

*CHHE members in bold
Calendar
 

December 13, 2019

December 18, 2019

January 10, 2020

January 15, 2020
CHHE is a NIEHS funded Environmental Health Sciences Core Center.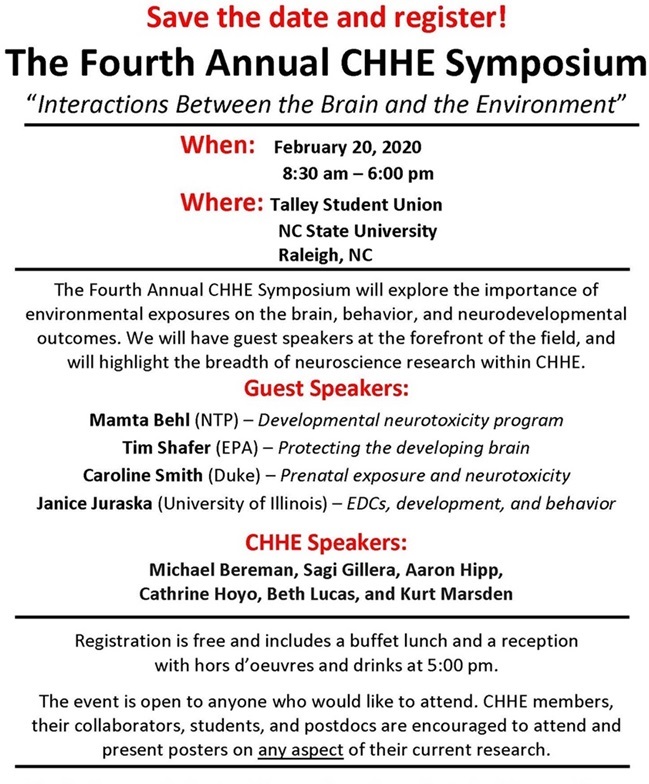 To find more information and register for the Symposium, click

here!
Contact Us
Looking for specific information or resource help?
Or call 919/515-3391