Meet Jane Hoppin, CHHE Deputy Director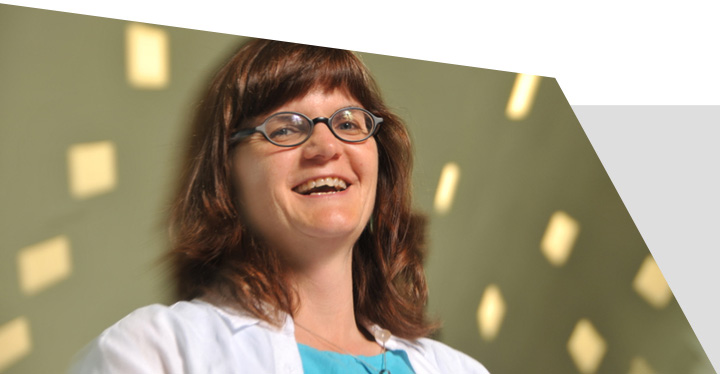 What is your general field of study and how did you get here?
I am an environmental epidemiologist interested in how chemicals in the environment affect our health.
As a college student I was really interested in the health effects of chemicals, so I got my undergraduate degree in toxicology. Then I worked doing hazardous waste site evaluation and risk assessment for five years and saw the importance of human data in identifying human health effects. So I went to the Harvard School of Public Health to do my doctoral work on how people get exposed to chemicals in the environment, and how we measure that exposure.
If you had twenty seconds with a stranger on an elevator, how would you explain your research?
I study how people get exposed to chemicals, like pesticides, in the environment, and what their human health effects are. In particular I'm interested in pesticides and respiratory outcomes, such as asthma and wheeze.
How does your work apply to everyday life for that stranger on the elevator?
We all use pesticides in our homes to kill ants or roaches, and we might use them on our lawns as part of a fertilizer or seed treatment. So it's important to understand how the chemicals we use in our daily lives affect our health.
How is your research advancing human and/or environmental health?
My research has suggested that specific pesticides are related to respiratory outcomes, and I'm hoping that people can use this information when they make choices about the chemicals they use in their own home.
How do you see your research progressing over the next five years?
Right now I'm building on existing studies to better understand pesticides and health. I hope in the next five years to develop some studies where we're actually enrolling people and collecting our own data to look at pesticide exposure in our homes and in other environments, and understand other environmental issues in North Carolina.
What is your favorite aspect of your research?
My favorite part is working with the COEC J. I really like knowing that we're responsive to community concerns and about environmental health problems. But I also like working with other CHHE members and helping to connect people who do different things so they can work together.
What is your greatest scientific achievement so far?
Wow, that's a tough one… In 2010 I was honored as NIEHS' (National Institute for Environmental Health Science) Staff Scientist of the Year. At the time I was working on the Agricultural Health Study of 60,000 farmers and their families in North Carolina and Iowa.
What do you consider to be the biggest challenge in human and environmental health research?
I think the biggest challenge is that people don't know what chemicals they are exposed to. It's hard to ask someone and get specific answers, which makes it hard to measure. So we have to rely on surrogate measures, like how many hours a day you use a cell phone, what foods you eat, where you live, etc., and how all that influences your exposure. To really get specificity, we have to identify what pesticides you're using, not just if you're using them in general, to better get at health outcomes.
What is your guilty pleasure?
Cold beer on a dock on a sunny afternoon, or snuggling with my dog, Daisy.
Interview by:
Katy May is the Project Coordinator for CHHE's Community Outreach and Engagement Core. She has a background in community-based management of environmental issues, with a focus on urban and coastal communities. When she's not outreaching and engaging, Katy is a volleyball coach, beach-goer, and crazy dog mom.