Carolyn Mattingly Named University Faculty Scholar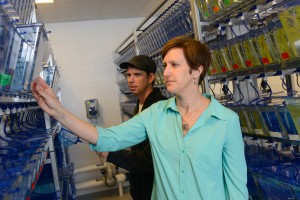 Carolyn Mattingly is an Associate Professor in the Department of Biological Sciences and Co-Director of the CHHE's Integrative Health Sciences Facility Core. Her lab uses bioinformatics and comparative genomics approaches to understand the complex interactions between our environment and human health. She also leads the Comparative Toxicogenomics Database, which links research about chemicals genes and diseases to better predict how chemicals will affect our health.
Carolyn wears many scholar hats, she is: an educator, teaching undergraduates in the classroom and graduate students in her laboratory; a bioinformatist and molecular/cellular biologist investigating the effects of environmental factors on human health outcomes; a leader in a NIH-funded University-wide Center; a mentor on NIEHS training grant; a productive interdisciplinary collaborator; a NIH-supported grantee and outstanding University citizen. Congratulations Carolyn!